We are greatly honored to be named as winners of the Oranje Handelsmissiefonds during the award ceremony at BusinessBoost Live 2017 in Rotterdam Ahoy with over 7.000 attendees.
"We were selected 9th out of the 10 winners that came from almost 2000 entries, so I was a little nervous whilst sitting there between the other 29 finalists." says Dimer (COO TWTG), "but when I heard the presenter yelling 'TWTG!' I must say that I couldn't stop smiling".
The Oranje Handelsmissiefonds had various companies in shapes and forms competing for this prestigious award. Winners are invited to attend the formal Dutch trade missions that are lead by Dutch King Willem Alexander and will be supported in bringing their business abroad. For TWTG taking steps across the Dutch border isn't new according to our CEO Goran, "nonetheless, making big new steps that make us reach even further is really exciting".
I was a little nervous whilst sitting there between the other 29 finalists
Media coverage
Apart from all the attention we got during the event, one of the biggest newspapers of the Netherlands (AD) wrote about TWTG and their success. In the interview Dimer and Nick tell about why TWTG was nominated and why products within certain fields are important for the TWTG company to add retorics to win these type of challenges.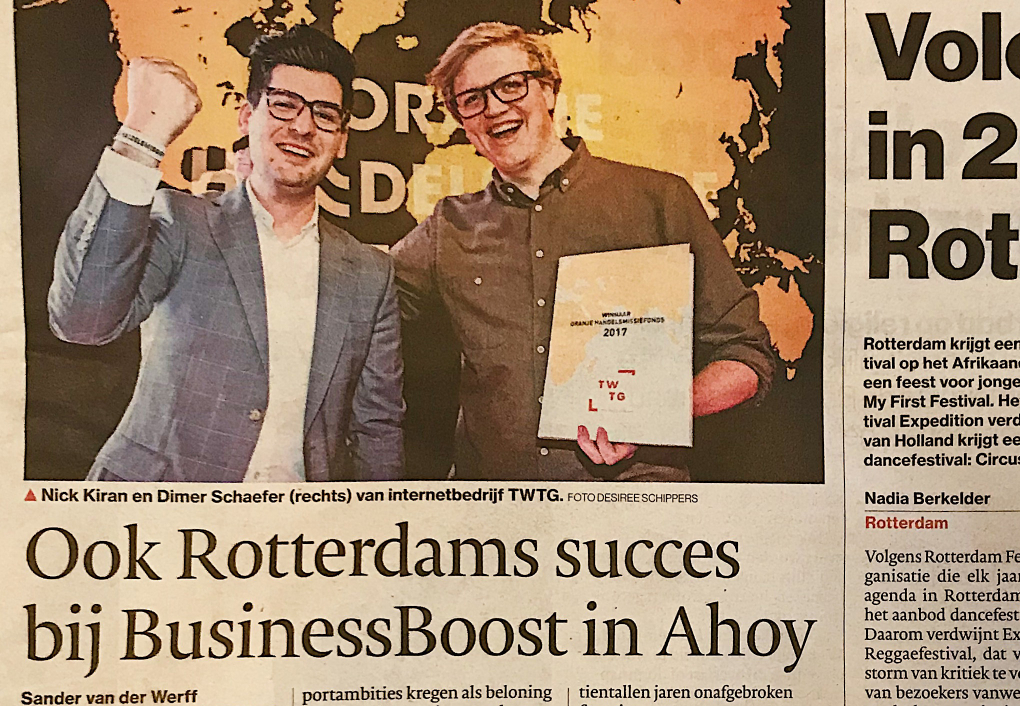 International trade facilitation
The Orange Tradefund is an initiative by ING, KLM, MKB-Nederland and the Dutch Ministry of Foreign affairs in collaboration with the Netherlands Enterprise Agency (Rijksdienst voor Ondernemend Nederland). The succession of the Dutch queen Beatrix by her son Willem Alexander on april 30th 2013 has been the ultimate moment for startups to combine their knowledge and experience and to emphasise the importance of international trade for the Netherlands.