What makes IoT truly beneficial, are the valuable new datapoints it offers whilst monitoring key elements in industrial processes. Especially when easily installed (retrofittable), provisioned in seconds, and at low cost per unit. This is exactly what NEON Temperature Sensors do. They provide insight into temperature change, on almost every industrial asset, instantly.
Receive alerts when temperature changes.
The NEON Temperature Sensor can be attached to existing installations and monitor the change in temperature. By monitoring the change in tem-perature on a variety of locations, these insights can positively benefit operations. Wireless communications run via a privately hosted LoRaWAN network ensure IT security is a given, and the total cost of ownership can be minimised. As this product is designed to operate in environments with explosive atmospheres, all NEON products are IECEx / ATEX certified.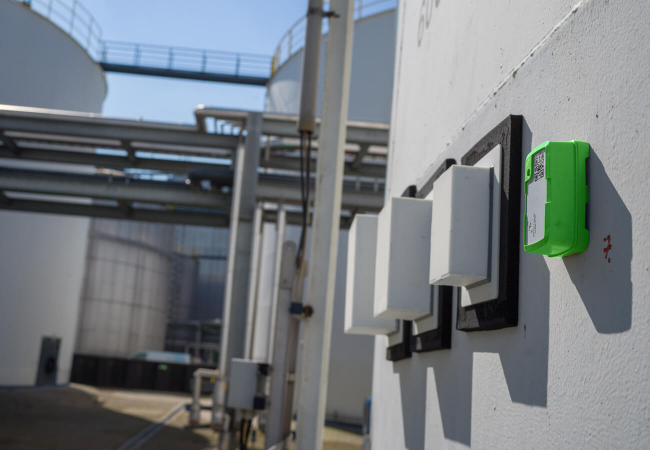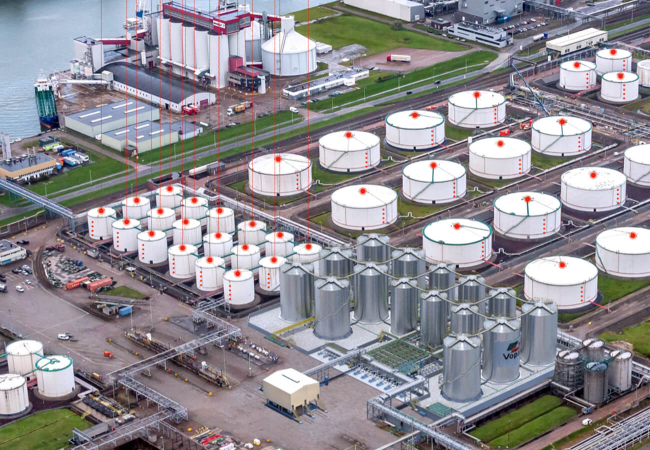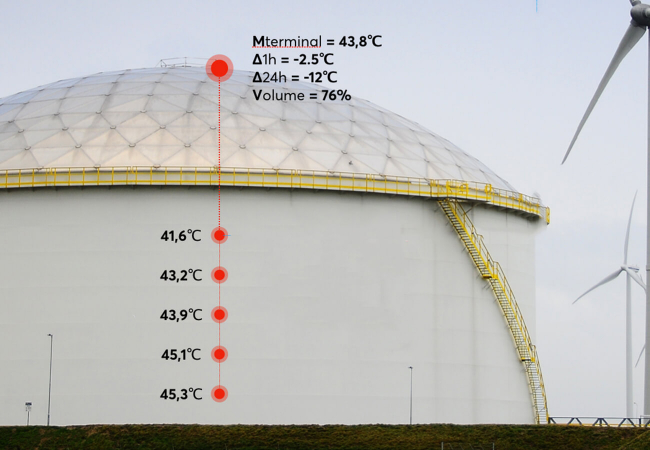 Aligner
Compatibility and use-cases
Currently it's in use at several industrial sites on insulated oil storage ter- minals and on transportation pipes but the solution can be used in endless other scenarios as well. In oil storage, it monitors the contained product temperature to reach the desired viscosity for easy transportation and to ensure the product properties. This solution can be added to existing communication infrastructure, or TWTG can install a LoRa WAN network specifically designed for industry to create a foundation for other I-IoT solutions in the future. Furthermore, they can be integrated with DCS / SCADA systems to provide an overview of the connected site.
Installed within seconds.
All existing infrastructure can remain in place, as the NEON Temperature Sensors can be retrofitted on top of pipes & insulated storage tanks to keep investment costs low. This product is designed to update / alert terminal management when specified change thresholds occur. Not to replace existing installations, but to add a secondary mesh for increased levels of information and insight in daily operations.
IECEx / ATEX certified - built to last
Designed for industry from the very start, TWTG's NEON products are built to not only operate in industrial sites with hazards of explosive gasses being handled but also all other elements that a sensor may be exposed to in the course of its technical lifetime. It has been rigorously tested and certified to work in conditions from -40° to +80° Celsius without hampering performance. Additionally, the battery lifetime has a minimum operational period of three years, hence periodical maintenance can be kept to a minimum. Our integrated device management layer (SolidRed) is included to prolong the usability and lifetime and feed back the health status of the device.
Square
LoRa
Privately hosted networking
Square
5
Up to 5 years of battery life
• Mounting methods: magnet, adhesive or strap
• Battery life: up to 5 years (refurbishment options)
• Operational conditions: -40° to +80° Celsius
• Runs on privately hosted LoRaWAN network
• Device management platform
• Easy installation and quick provisioning
• IP-65 rated, IECEx / ATEX zone 1 certified*
• Global availability
* Ex II 2 G Ex ia IIB T4 Gb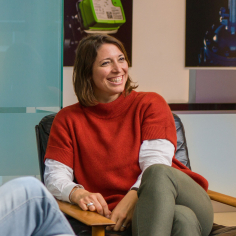 Want to discuss possibilities?
Contact Nadine, our Commercial Director
Contact